Online Appointment Scheduling, Registration & Payment
Increase Patient Convenience, Decrease Staff Workload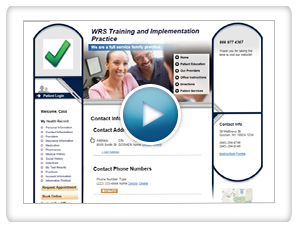 New patients who are requesting appointments can go online and add all demographic, insurance, and medical information prior to coming into your office. WRS web-based EMR patient portal provides practices with the ability to upload their own practice-specific forms which can be printed out at the patient's home and brought to the office. 
Existing patients have the ability to continually log on to your patient portal and update their demographic, medical, and insurance information in their Personal Health Record (PHR) if they have any changes, rather than getting stopped at the front desk to verify and update. Everything can be done ahead of time, prior to your patient's encounter and the information flows into the integrated WRS EMR.
Appointments can be requested and even booked online through the patient portal, saving up some space on your front desk's phone line.