Manage Each Part of Your Patient Encounter
Exclusive 4-Step Workflow
WRS features an exclusive 4-Step Workflow that directs the seamless movement of patients and data, end-to-end, throughout the encounter. Patient registration takes place over the phone and/or by the patient on a secure website known as a portal.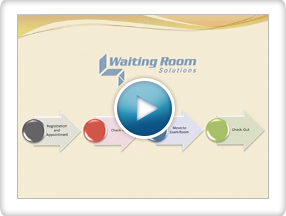 Step 1: Registration and Appointment – Patient registration triggers a series of processes and alerts for demographic entry, insurance eligibility, appointment confirmation emails, appointment reminder phone calls/emails, and referral/authorization information. These alerts and reminders ensure the completion of essential pre-visit functions lessening the burden on the front desk staff.
Step 2: Check-In – When the patient arrives at your office, the front desk staff selects Check-In. Any data entered on the patient website, and/or by the front desk staff, has become part of the patient record. Insurance eligibility information is presented and the system reminds the front desk to copy/collect insurance cards, enter additional demographics, and collect co-pay fees or balances due.
Step 3: Move to Exam Room – When the clinical team is ready to see the patient, the front desk staff is triggered to assign the patient to a room number and set the patient order. Step 3 also triggers the creation of a new EMR encounter note and populates this note with data that has been entered by the patient, and/or the front desk staff, on medications, immunizations, medical and social history. The clinical team is alerted to any new or outstanding lab results and any tests due.
As the visit progresses, the clinical team charts the encounter into a customized, specialty specific note format. Tools such as HPI templates, custom drop downs, and practice superbill coding make note creation efficient and complete. Orders and e-prescriptions are then easily generated. Once the visit is complete, the E&M Advisor will guide in the entry of diagnosis, procedure and service codes (ICD and CPT). Once the note is generated, a claim is automatically created for submission. Previously entered demographics, insurance information and ICD/CPT codes are populated and a CMS 1500 form is ready for submission at any time.
Step 4: Check-Out – At the completion of the visit, the front desk staff selects Check-Out. Prompts for co-pay collection, orders and prescriptions are presented. The front desk can then schedule follow-up appointments, future recall phone and email communications, and print receipt of any monies paid.
The exclusive 4-Step Workflow ensures that each essential part of the practice workflow is performed and data is captured at the time of the visit. Complete and correct execution the first time eliminates costly insurance rejections and workflow mistakes.