Customizable Patient Communication and Education
Marketing to Your Patients Through Automatic Email, SMS and Phone Reminders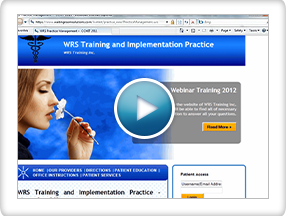 The medical industry has changed tremendously over the past few years. Patients are not only demanding quality care and timely service, but many want to take an active role in their health. They are seeking out practices that offer communications choices.
WRS includes multiple options for communicating with patients including private and secure messaging, SMS and email. Appointment and health maintenance reminders are automated and can be done by phone or email, according to the patient's preference.
The experts at WRS have created communications that can be customized for your practice. You can add your own text to emails and reminder phone call messaging is recorded by your office so patients hear a familiar voice. You can even supplement the extensive WRS library of patient education with your own materials.
Setup is easy. There is no ongoing extra work or cost because communications are automated and integrated into your normal workflow. You get the benefit of positive marketing that reinforces relationships as part of your WRS EMR solution.