Integrated Patient Portal and Personal Health Record
Engage with Your Patients at Their Convenience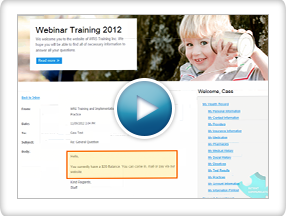 WRS Health clients using the integrated patient portal and personal health record (PHR) see at least a 13% lower no-show rate. But the benefits go beyond the no-show rates. By streamlining communication with your patients, you can save two of the most important components of your practice: time and money. By utilizing the integrated PHR, your patients can enter and update their demographic information, insurance information, medical and social histories, current medications, providers, preferred pharmacies, medical directives, and more. All updates are processed in real time. Through 128-bit encryption, your patients can also message your practice, request appointments, request refills, and even book appointments all within the comfort of their own homes, 24 hours a day, and 7 days a week. 
If better communication between your patients isn't enough, your patient portal also gives your practice the ability to send test results to your patients, as well as medication instructions and educational material. All patient data is encrypted, ensuring HIPAA standards are being met. 
You are the ultimate authority regarding how much data is conveyed to your patients via the patient website. At no point in time does your patient have access to the provider-created notes. Your patients can only see what you want them to see; physician notes remain protected.