Search Engine Optimization & Marketing
Patients are Looking for You on the Web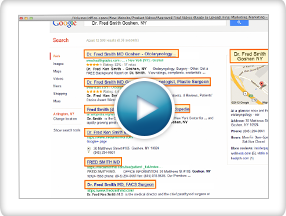 The medical industry has changed tremendously over the past few years. More and more patients are becoming technologically savvy and you need to make it easy for prospective patients to find you on the web.
Just having a website isn't enough. You have to be sure that your website can be easily found by prospective patients searching for your specialty in your locale. It's a fact that most people don't look beyond the first page of search results. In fact, many don't look beyond the first few listings.
To be found by prospective patients, practices need to use specific techniques, known as Search Engine Optimization or SEO. Done right, these techniques go beyond your specialty and location and take into account your practice goals, such as expanding your patient base for the profitable services you offer or altering your payer mix. SEO techniques also change over time as the search engines evolve their processes.
The website you receive as part of your WRS Health EMR was developed with SEO in mind. Through a combination of captivating content, various coding techniques and other approaches, your practice website will be automatically set up to be found by prospective patients and promote your practice goals.
WRS experts can also advise you on ways to further increase the visibility of your practice.
With WRS, you can be confident you will receive value from your website without having to learn the ever-changing nuances of SEO.