Access All that the Web Has to Offer with WRS Cloud EMR
Connections, communications, and the most powerful and robust software solutions are now all available on the web. WRS Health was designed specifically to access that power and provide it to you through any Internet connection. You not only get easier access to more powerful software, but you can also realize all the benefits of centralized data and software management as well as centralized services.

  WRS Cloud - Move Beyond the 4 Walls of Your Office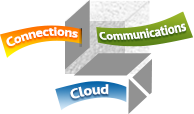 "Cloud" is the new buzz word. What does it really mean for your practice? A cloud - based EMR offers you the ability to securely access your data 24/7 from the convenience of your home or any other location on the globe. The Cloud allows immediate delivery of specialty specific content with immediate connection to patients, insurance payers, labs, state and federal government entities and virtually any entity in the world. Instantly.
A correctly architected system provides you with the technologically best network infrastructure and management available anywhere. Why would you entrust your network and software to non-professionals? You wouldn't leave your money under your mattress, you put it in a bank to be professionally managed and secured. You should do no less for the data and software that runs your practice.
  Beware of "Web" Imposters
Accessing the power of the web doesn't happen by accident and it doesn't happen without the proper system design and architecture. Many server-based systems claim to be "web-based" or "cloud" solutions. In actuality, most are simply hybrid solutions that link old-world client-server software to the web. Other web-enabled solutions access desktop software through an Internet connection. These solutions become "web-enabled" by sticking third party software between you and the application. This results in latency, additional costs and another point of failure.
Beware of systems claiming to be web-enabled or claiming to provide an on-premises or cloud solution. You can't have it both ways and truly benefit from what the web has to offer. WRS was designed and developed for the web. It is a true web-native system that offers the true connectivity, control and cohesiveness of the cloud.