Automated Patient Reminders, Recalls, and Health Maintenance Alerts
Good Patient Communication Breeds Compliance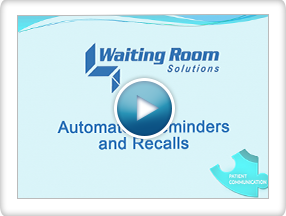 Something as helpful as automated appointment reminders and recalls should be part of every practice, but unfortunately, they are not. Many practices don't know what they are missing until it's too late. Inconsistencies with your practice's appointment bookings could lead to either quiet times or jams at the front desk, resulting in frustrated patients, unhappy staff and loss of revenue.
Automated Appointment Reminders
Being the first practice management system to offer a completely integrated appointment reminder structure within the scheduling system, WRS EMR utilizes VOIP technology to automatically call your patients and remind them of their appointments. Your practice can even record your own personalized message. The system also automatically generates an email reminding your patients of their appointment, as well as an SMS text message.  It's that simple to ensure your patients show up for their scheduled appointments, and your front desk has more time to focus on human interactive tasks.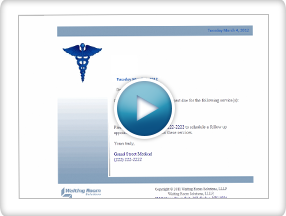 Automated Appointment Recalls
How often have your patients said "I need to check my schedule" before scheduling a follow up appointment?  Is your front desk overwhelmed with post-it notes and scrap pieces of paper reminding them to call your patients back? Setting up an automatic recall reminder for future follow up visits is integrated within your 4-Step Process. Your patients can be called back for any given period of time, whether it is a two week checkup or yearly follow up.
Health Maintenance Alerts
As your practice grows, and there are more patients to look after, you don't want to start letting important tasks fall through the cracks such as notifying your patients of important tests or procedures that are due. Aside from being a vital area for Meaningful Use, health maintenance allows for recall of patients based on parameters set by your practice. At check-in, your staff is alerted when there is testing or follow up that needs to be done for your patients. The health maintenance module can also be used to create medical alerts to your practice regarding diagnoses or complications.