Data is Captured and Verified Prior to Encounter
Seamless Data Flow Into Your EHR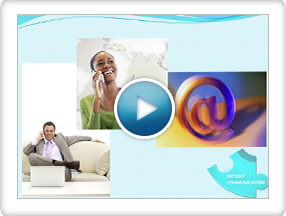 Keeping open communication between you, your staff and your patients is vitally important for the success and growth of your practice. Patient communication is seamless through WRS Cloud EHR and is integrated into your workflow. If you have a lot of patients in your waiting room completing new patient intake forms or other important paperwork, this means that your front desk is burdened by the time it takes to input all this information into the patient's chart, as well as time spent by your patients needing to update their information. Waiting Room Solutions offers many different opportunities to capture patient data and make sure it is verified prior to the encounter.
Patients can access their secure patient portal accounts to update and verify current information prior to coming into the office. Updating demographic information, referring providers and medical conditions can all be done via the patient website from the comfort of the patient's home, or anywhere with internet access. No more handing long lists of medications to the front desk staff to enter in their charts, or even pulling out bottles of medications to review with the doctor during the patient encounter. All information can be entered in prior to the appointment at the patient's convenience.
Additionally, all information can be easily verified and reconciled with a click of a button; which not only is a requirement for Meaningful Use Attestation, but more importantly, easily ensures all entered information is accurate and up to date.