Connect Over the Web with People
That Matter Most to Your Practice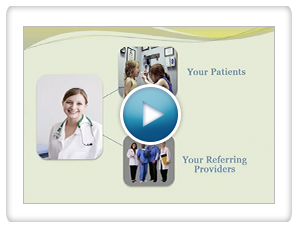 WRS Provides Crucial EMR Connectivity
Communicate with Patients
Connecting with your patients has never been easier. Patients login to their patient portal to enter and review their vital health information. Online appointment reminders, confirmation, appointment recall, health maintenance alerts, check-in and bill pay all happen automatically. Each automated transaction is also an opportunity to educate and connect with your patients. When you render a diagnosis your customized patient education content is automatically sent to the patient. Online and structured secure messaging lets you communicate in an orderly manner at the convenience of you and your patients.
Connect to Referring Providers
For your referring providers, automated consult notes and faxes are generated by the WRS Health web-based EMR system. If you want to provide access to your notes you can do that with one-click ease. Faxing and receiving documents from other providers is done automatically. Sending and receiving referrals and authorization are also an integrated part of the system. At WRS Health we smooth out the ruffles in doctor-to-doctor online communication.