Marketing Integrated With your Workflow
Marketing Shouldn't Be a One Time and Unmanaged Event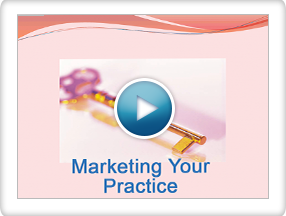 In a busy practice, marketing can be a burden. Local newspaper ads won't strengthen current patient relationships or attract more than the occasional new patient, but there's no time to put together a marketing plan.
With WRS Health, medical practice marketing is no longer ad hoc. It occurs naturally, as part of your normal workflow, and your practice benefits.
Patient relationships are strengthened.
Your patients receive regular communications with high value information from your practice. These include health education relevant to their diagnosis, appointment reminders and health maintenance reminders.
Patients value the convenience of requesting Rx refills, viewing lab results and arranging appointments online, through the secure patient portal.
You can create your own patient communications or customize standard communications to meet your own goals. Some possibilities include a map and a link to get directions to a new office; information about books or products, along with a link to purchase them; or survey to gauge patient satisfaction.
Potential new patients learn about your practice and your revenues grow.
Your EMR solution includes a marketing website to help you attract new patients. The website is customized with your information and is designed to be easily found by patients researching providers online.
Your patient portal and integrated Personal Health Record can also help attract patients. Two out of three people have said they would consider switching to a doctor who offers secure online access to personal health information.
Let WRS Health transform marketing from a burden to a practice-building benefit.