Drupal 7 – The Ultimate Answer to WRS CMS Needs
Customer Profile
WRS Health (WRS) is an award-winning, web based Electronic Medical Records (EMR) and Practice Management software system for physicians' offices. WRS Health is based in Goshen, New York. WRS customers range in size from small practices to large enterprises.
WRS serves almost 3,000 users for their needs in charting, medical record filing, payment tracking, prescription and reporting via the SaaS (Software as a Service) model. WRS has sent over 30,000 electronic prescriptions a month over a secure network.
Challenge
WRS was looking for an open-source publishing platform to easily organize, manage and publish content for physicians who visit WRS website in search of a powerful enterprise end-to-end electronic medical records and practice management software solution. WRS Health needed a platform for rapid website assembly and to connect to other back-end systems like the WRS Customer Relationship Management System powered through vTiger.
"A few years ago, WRS Health had a simple static website that needed to be redone. Rather than create another static website, WRS Health wanted to be able to do more with our website," said Brad Hall, WRS Health Systems Administrator. 
Solution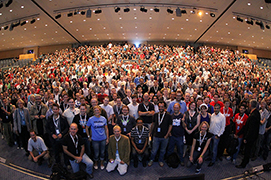 WRS Health selected Drupal's Open-Source Content Management System. The system offers a way to build internal and external-facing websites in a matter of hours, with minimal custom programing and without the need to start from scratch every time you build a new site. 
Drupal is open source software. Drupal is a cutting-edge platform that supports the latest technologies that the Web has to offer. The Drupal project's principles are modularity, standards, collaboration, ease-of-use, and more.
WRS Health needed a publishing platform that would provide content management features that would make it easy to create and manage its site. WRS wanted a platform to manage content with an easy-to-use web interface. Drupal's flexibility handles countless content types including video, text, blog, podcasts, and polls with robust user management, menu handling, real-time statistics and optional revision control.
"Drupal's content management system allows content to be put into web pages much more easily. In addition, once that content is there, WRS Health can make system-wide changes that are applied to all of the content, rather than having to apply it individually to each page.  For instance, if WRS Health wants to change the color scheme or theme, we don't need to go through every page. It can be done once and applied across WRS site," said Hall.
Indicating that WRS Health also evaluated Joomla, Hall said, "Joomla has some ease-of-use advantages, but Drupal is far more robust.  In the future, WRS Health is planning to run many practice websites through a single Drupal install. Drupal can assist us with our future business needs and plans. In fact, that's probably the top reason we selected Drupal. We also liked the fact that Drupal is enormously scalable and many very large websites are run on Drupal."
Business Needs
In order for WRS Health to meet its future goals of getting physician practices to use Drupal, the company plans to convert parts of its current CMS to Drupal. "With Drupal's extensibility, we'll be able to do that and this will allow WRS physician practices to have full control to create whatever content they like and integrate with the WRS Health back-end.  As a framework, Drupal allows WRS Health to create the content we need now, while also giving WRS the ability to scale into the future," asserted Hall.
Emphasizing that WRS Health also needed a site that is flexible enough to evolve in any direction, Hall said, "For example, you might start with a blog and want the option of adding other features such as a wiki, electronic commerce and forums. Drupal is flexible."
With eyes focused on having a site that can easily be configured to interact with other sites or with other technologies, WRS Health also needed the ability to create its own content types. For example, WRS needed to add a custom field to a page. "Drupal met all of WRS Health needs," said Hall.
Another major benefit of Drupal is how well it is set up for SEO. "We saw a clear benefit in the search engines once we had optimized," said Hall. He added, "Basically, WRS Health ended up with a site and CMS that fits our needs perfectly, and also enables us to extend functionality as required."
Noting that WRS Health created its own site theme from scratch, Hall said, "As far as modules, the FeedAPI module with iCal Parser is used to dynamically create the calendar of upcoming webinars, straight from Zimbra Calendar. WRS Health staff just adds the entries to the normal calendar and the system automatically imports it into Drupal, creating the necessary pages and tables. Drupal's capabilities are amazing," concluded Hall.