Hold Your Patients Financially Responsible
Preserve Patient Relationships and Maximize Correct Payment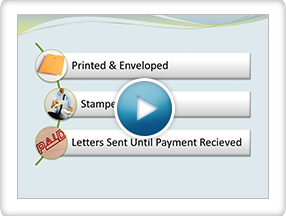 The WRS Health patient billing and payment system helps ensure that patients are held financially responsible for the correct balance in a timely fashion. As patient payments are assuming a larger portion of the total reimbursement for services rendered, having a system in place that ensures payment while preserving your patient relationships is more important than ever. 
Your front desk is immediately presented with the correct copayment, deductible amount and coinsurance when a patient checks in or out. This is done through automated queries with the insurance company. The correct balance can then be collected from the patient – including outstanding balances – all done at the time the patient is in the office. Coinsurance amounts for services rendered indexed to the Medicare fee schedule and your fee schedules are presented so that patients can pay at the time of service. 
Patient balances are sent on a weekly basis through automatic patient statement generation. Statements are automatically enveloped, stamped and mailed. There is no need for your staff to "run statements" once a month. When payment isn't received in a timely fashion, successive dunning letters are automatically sent until such time as payment is received.
In the few instances where collections are necessary, you can feel comfortable that your patients were billed the correct amount in a timely fashion. We know how important your patient relationships are to you – WRS web-based EMR and Practice Management system helps preserve this relationship with a professional, accurate and timely patient payment workflow.